Parkwood Place apartment-homes are all under one roof connected by a single hallway.  Multiple common areas (dayrooms) along this hallway provide extended space for relaxation and recreation.  Other communal areas include:
Front lobby
Dining room
Library
TV/Movie area
Beauty/Barber shop
Laundry rooms
Floor Plans
Parkwood Place offers four sizes of apartment-home floor plans ideal for independent living.
Each floor plan comes equipped with:
Bedroom(s) and Full bath(s)
Kitchen with refrigerator, stove and disposal
Living and Dining combination area
Private patio
Generous closet spaces
The single-story design allows for a private entrance from the outside patio
Click on Available Floor Plans To Learn More
Schedule a Tour Today!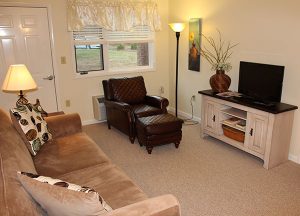 Utilities
All apartment- homes have wireless internet, cable television box(es)and easy telephone hookup. Plus, individual controls for heating and air conditioning with an auxiliary heating system in the bathroom for your personal comfort. All utilities, except telephone, are included in the monthly rent.
Amenities and Affiliations
Parkwood Places encourages spiritual, physical, emotional and social wellness for the whole person.
Worship on Wednesday (WOW) service with a local minister
Bible study and prayer group
YVHH Registered Nurse once weekly clinic pre vitals check
HCMH Clinical Pharmacy Consultant by appointment to discuss personal medications
Clinical Nutrition Manager Consultant by appointment to discuss dietary needs
Rehab Services Manager leads twice-weekly sessions for strength and balance
Medication Reminder program available through home care service (additional fee)
Licensed massage and wellness therapy available full time by appointment (additional fee)
Aquatic and Wellness Center membership and class programs available at no cost
Elder Law consultation by appointment
Senior Move Management consultation by appointment (additional fee)
For more information about our Affiliations click on these links: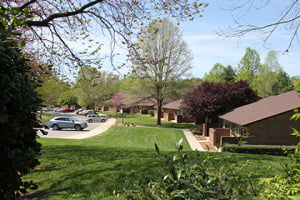 Grounds
Outside on the back is a beautifully designed stone patio and fireplace for gathering and relaxing, a walking trail through the woods by the lake, raised bed gardening areas and beautifully landscaped grounds that flow into scenic natural areas. On the front is a parking area with a reserved space for your car.